Marketing in the Digital Era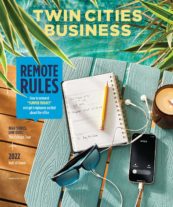 The pandemic's arrival forced a huge portion of commerce online, which led companies in nearly every industry to beef up digital marketing of their products and services.
While digital marketing isn't new, since early 2020 it's become far more crucial for the survival of many companies. That's the case for both business-to-consumer and business-to-business enterprises. In the pre-Covid era, many B2B companies relied on trade shows and sales calls to connect with customers. Suddenly, in March 2020, that was no longer an option. And B2C businesses had to find new digital ways to recreate the distinctive experience of their brands.
Consequently, businesses of all kinds have learned more over the past few years about their target markets by mining an abundance of online customer data. Now, with people better equipped to deal with Covid, face-to-face business activities are gaining momentum. It's clear that digital and nondigital marketing techniques are interconnecting. Both are essential to reach a company's specific target market.
Personalizing messages
Digital techniques now encompass nearly all forms of marketing, says Steve Knapp, managing director, media and data science, at Minneapolis-based Colle McVoy. Online marketing capability, he adds, "is driven by the proliferation and use of data."
When the pandemic lockdowns began, many businesses needed to learn more about their customers through online means. "Our clients are spending more time trying to figure out how to capture first-party data and zero-party data through their digital channels," says Margaret Murphy, CEO of Minneapolis-based agency Bold Orange, whose largest sectors are health care, retail, manufacturing, financial services, and energy. "First-party" describes how visitors "behave" on a company's site. "Zero-party" refers to information that digital visitors willingly provide about themselves. "Now you have to be very specific," Murphy says. "What are the behaviors you really want to understand?"
Bold Orange is designing websites to capture these kinds of data, which companies can use to create a more personalized online experience. "Five years ago, personalization meant, 'Hi, Margaret, welcome back,' " Murphy notes. Now a site can serve up content that's relevant to a particular visitor using tools such as Interaction Studio, a personalization platform within Salesforce Marketing Cloud. Microsoft's Dynamics 365, HubSpot's Marketing Hub, and Pardot (a Salesforce platform focused on B2B) offer similar online personalization capabilities.
Murphy offers the example of a Minnesota customer visiting a hardware store's site in the middle of winter. The store can present a selection of shovels—and not present such a selection to customers in Florida. The website goes beyond mere identification to actual relevance. "We're seeing a lot more focus on that," she says. "Businesses don't want to 'spray and pray' their digital experience. In other words, it's not one size fits all."
Agencies like Bold Orange also are doing more and deeper work in the realm of tagging, which offers a deeper evaluation of a client's digital experience by following the "paths" visitors take as they move through online search and into that company's website. One tool available for this purpose is Google Tag Manager, which can help companies better understand how well their websites work.
What do visitors focus on? Are they buying products, or is there a big drop-off somewhere in the e-commerce experience? If so, where and why? "We don't have any patience anymore," Murphy notes. If a page takes too long to load, or if the search result directs visitors to the home page rather than the page with the product they're seeking, "they're outta there," she says.
As a midsize agency that works with numerous well-known brands, including 3M and Goodyear, Colle McVoy uses multiple sources of targeting data to reach specific audiences across many media. In addition to digital channels, that's also the approach with television advertising and even digital billboards.
Related to this tactic is the phenomenon that Knapp calls "media multitasking." If somebody is watching March Madness or the Oscars on TV, they likely will have a mobile phone or laptop on hand to connect with fellow Kansas Jayhawks fans or comment on the Will Smith slap via social media.
For brands, media multitasking means that reaching an audience incorporates digital and traditional media, Knapp says. "It's about having a connected experience." Advertising, content, social media, and online search, "just to name a few, all need to work together," he adds.
With so many options for positioning online ads, Colle McVoy invested in demand-side platforms, or DSPs, offered by Google, Roku, and Yahoo. DSPs provide an abundance of targeting data for brands and agencies seeking online ad space. These platforms "have hundreds of millions of data points that allow us to get really smart about whom we're targeting and subsequent digital media buys," Knapp says.
Generating leads online
For B2Bs, websites weren't necessarily afterthoughts, but they typically weren't those companies' marketing hubs. With Covid lockdowns, B2Bs suddenly needed to reach customers online. Many weren't prepared. They knew that they needed better websites and digital marketing, which many hadn't done before, says George Lee, CEO/CFO at Minnetonka-based digital agency Snap, which specializes in B2B marketing.
Lee describes Snap as "primarily a lead-generation agency." In creating websites for its clients, it often uses technologies that can determine visitors' IP addresses, providing a name and often an email address and even a phone number. Snap is also using tracking technologies. For some sites that the agency designs, each page has its own unique telephone number and contact form.
"You know when someone's calling what page they're visiting on your website," Lee says. The phone tracking technologies record every call. It's also possible to note whether the call was answered before going to voicemail. "If you don't answer a phone in 15 seconds, Google is going to start pushing your website down in the search rankings," Lee says.
Read more from this issue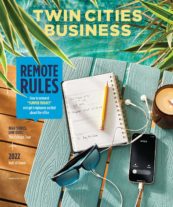 Lee cites another factor that B2B organizations must address: Young employees and leaders tend to ignore printed brochures and catalogs. "They want to do everything online," he says.
More B2B companies are realizing that potential customers are finding their products and services through online searches. These types of businesses are "selling a really complex product or service," says Kathy Mrozek, president and CEO of St. Paul-based agency Windmill Strategy, which specializes in digital marketing and website design for B2B manufacturing and industrial companies. These clients need to reach people with specific expertise, she adds, "and there are usually multiple people involved in any buying decision."
For instance, in an industrial company, a buyer is often an engineer or "a technical person who's trying to solve a problem," Mrozek says. That person is doing online research for a particular type of product. "They're very seldom the ones writing the check or signing the contract," she adds. "That engineer or technical person can be a key influencer in the buying decision." But others—possibly including the technical person's boss, someone in procurement or purchasing, or a C-suite executive—also need to come to the website and be convinced that the company is a trustworthy vendor or supplier, she says.
That said, Mrozek maintains a B2B site needs to appeal to that first company visitor. "The solutions, the case studies, any customized products—the technical information—is usually going to appeal more to that technical audience," she says. That's why the company should provide as much information as possible. She also suggests that the B2B site not block technical people from downloading information or 3-D models of the product. If the engineer is downloading something, "they're probably building it into their product [prototype], and you've essentially made a sale," she says.
Pinpointing phrases
But to make those kinds of sales, B2Bs need to be found easily online. In upgrading their sites to meet the latest expectations of potential customers, these companies also have had to incorporate best practices in search engine optimization (SEO).
"Optimization doesn't have to be super-complicated," Mrozek says. "[Employ] a simple strategy of identifying the top keywords that are very specific, matching up with your products or services and how your customers might be searching for those solutions."
She also recommends that B2Bs use long-tail keywords that provide more specificity. For instance, create content using a phrase such as "custom automation industrial services," which is more likely to attract a target market than "automation."
"You can write content that ranks well with SEO by having the right keywords," Mrozek says. "If you're doing that well, you're getting those eyeballs to your website. But then the job is to convince them that you're a quality supplier. That content has to be on point. It can't be a lot of marketing fluff."
And SEO, always important, became absolutely crucial during the pandemic.
"The more things shut down and shifted to online, the more companies needed to show up in search," says Griffin Roer, founder and CEO of
St. Paul-based Uproer, which specializes in both SEO and search engine marketing (SEM), also called paid search.
"Particularly for e-commerce and software companies, where we're focused, search is such a big touchpoint in the customer journeys of those companies," Roer says.
Though most of Uproer's clients are based in Minnesota, the pandemic has led more companies outside the state to contract with the agency for its services. Much of that discovery of Uproer has happened online.
Roer says that paid search has grown on both the B2C and B2B sides. During the pandemic, shopping ads that appeared on search engine results became more competitive as retailers that could no longer welcome shoppers in a store needed to reach them digitally.
Roer notes that Google has put more money into this area as it faces increasing competition, notably from Amazon, which more people are using as a kind of search engine for shopping.
For companies that don't want to spend money on online ads or who worry that those ads won't appear where their target markets can see them, strong SEO is crucial. What works best? "A heavy investment in content," Roer says.
With websites becoming clients' main mode of interacting with their customer base, he says, those sites need to provide details about the products or services they offer that's more specific and useful than what most "traditional" B2B sites provide.
Content is more than words—it also includes visuals. "Digital creates very potent competition," says Patrice Bradley, CEO and creative director for Duluth-based agency Swim Creative. "You have to put your best product out there, because people are going to find your weakness."
Bradley cites an example from her own experience. She was recently served up an online ad for a meal kit company. After being cooped up at home, she found the idea of not having to cook highly appealing.
"But what I found was that their product photography was uninspiring—it did not look good," Bradley recalls, so she took a pass. With people getting so many ads online, she says, "they're going to click on the one that looks best."
Swim uses online targeting programs and other digital tools for its clients.
While Bradley says that "digital is just another tactic or medium for us," online marketing does allow Swim to experiment with different copy and visuals for its clients to "see what moves to the top." This testing process is a simple way to determine what attracts the most attention for a client's potential customers.
Still, for all the ways it can offer companies a deeper understanding of their customers, digital marketing can't be a be-all and end-all. Colle McVoy's Knapp notes that gathering data to understand customer behavior isn't enough. There also has to be "an emotional message that makes you want to be engaged with a brand." Or as Bradley characterizes it, "you still have to connect with people."
This article appeared in the June/July 2022 issue under the headline "Target Practice."